Welcome to Art World Learning's series of educational videos!
Every creative person charts their own path, but you don't have to do it alone!
This resource is designed to help you navigate the business aspects crucial to successful creative careers. AWL explains the ecosystem of funding, finance, and business in a way that's approachable, nonjudgemental, and applicable to creatives and freelancers who often find themselves torn between doing their work and tending to administrative details.
The curriculum exists as stand-alone modules. Click each one to discover videos, worksheets, reference materials, and additional research. Due to the nature of the subjects, many of the modules are interrelated and reference one another. When another module is especially helpful, it will be noted in the text accompanying a video. We encourage you to watch the whole series, at your own pace, to get a more robust understanding of the resources and tools available to you. We believe financial empowerment enables creative dreams for the long term.
This curriculum is being developed in real time. Check back often for updates.
AWL also produces Art World Conference (AWC): a series of actionable, inclusive workshops and events, both in-person and online, focused on business and financial health to help creatives and their communities. To see past and future programming, click HERE.
Interested in a bulk subscription for your creative community? Email [email protected] to learn more.
FINANCIAL HEALTH: BIG PICTURE
Before delving into the nitty-gritty of financial health best practices, it is important to understand its context.
These lessons discuss personal history, mindset, and economic systems as critical influences and potential tools.
FINANCIAL HEALTH: BUSINESS
Learn the vocabulary, concepts, and strategies for resilience in business.
FINANCIAL HEALTH: PERSONAL
Learn to build a healthy foundation for your financial life with confidence to take control of the numbers.
FINANCIAL HEALTH: LEGAL
Legal protections for artists, designers, and freelancers have the potential to play a significant role in creative careers.
When you choose a business entity, license your work, sign a contract, or market your work on social media, know your rights.
THE FUNDING ECOSYSTEM
Every project, practice, and organization needs resources to survive and thrive. Learn about
the interconnected web of support and how to access what you need.
MATH FOR CREATIVES
You really can't avoid numbers when talking about business and financial health. These short
tutorials inspire confidence with analytic calculations and applications.
WELLNESS
It's impossible to separate professional well-being from personal health.
LIVE Q&As
Free, live Q&As with AWL instructors! Subscribers and soon-to-be subscribers welcome.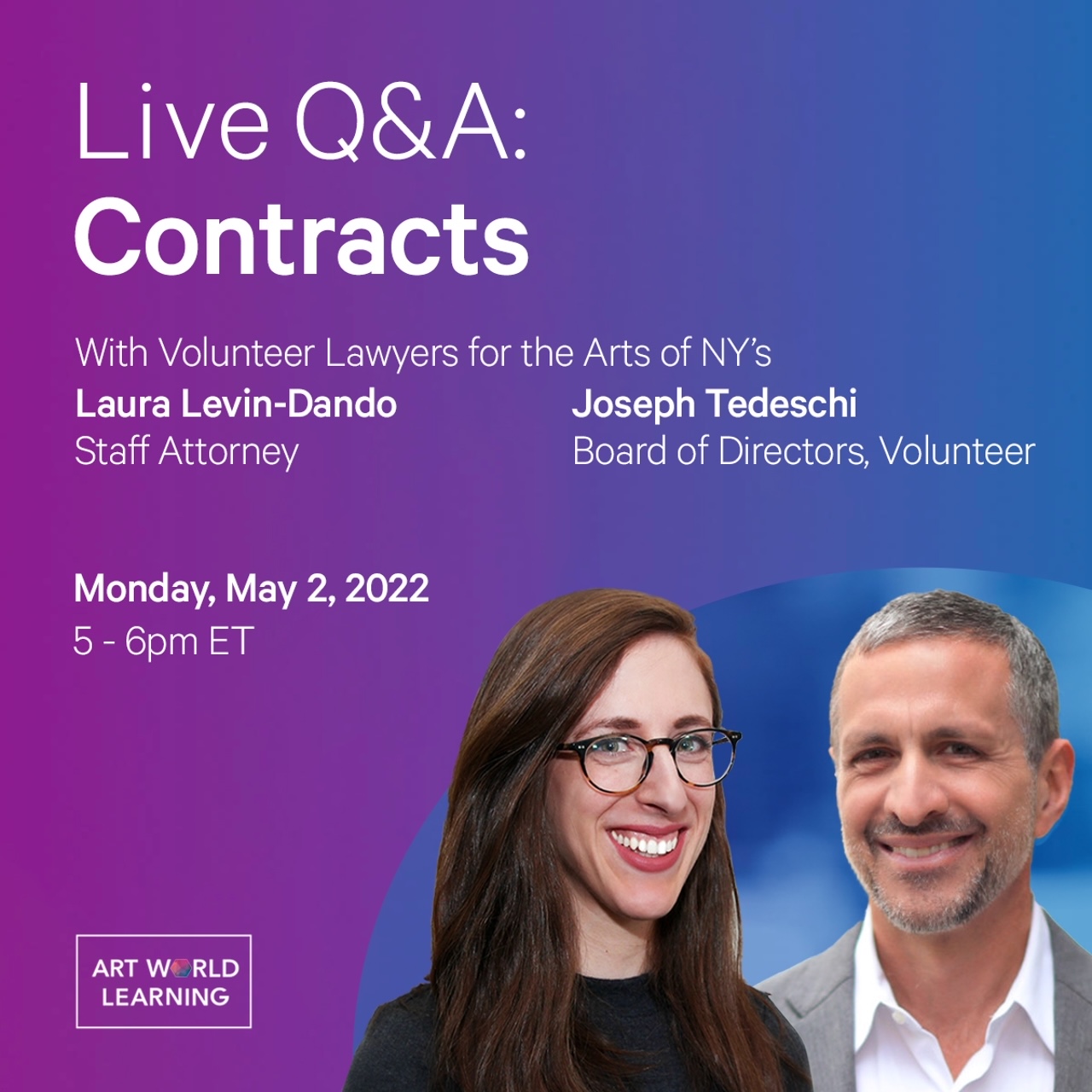 Contracts
Laura Levin-Dando, Staff Attorney and Joseph Tedeschi, Board of Directors at Volunteer Lawyers for the Arts of NY
Monday, May 2, 2022
5 - 6pm ET
COMPLETE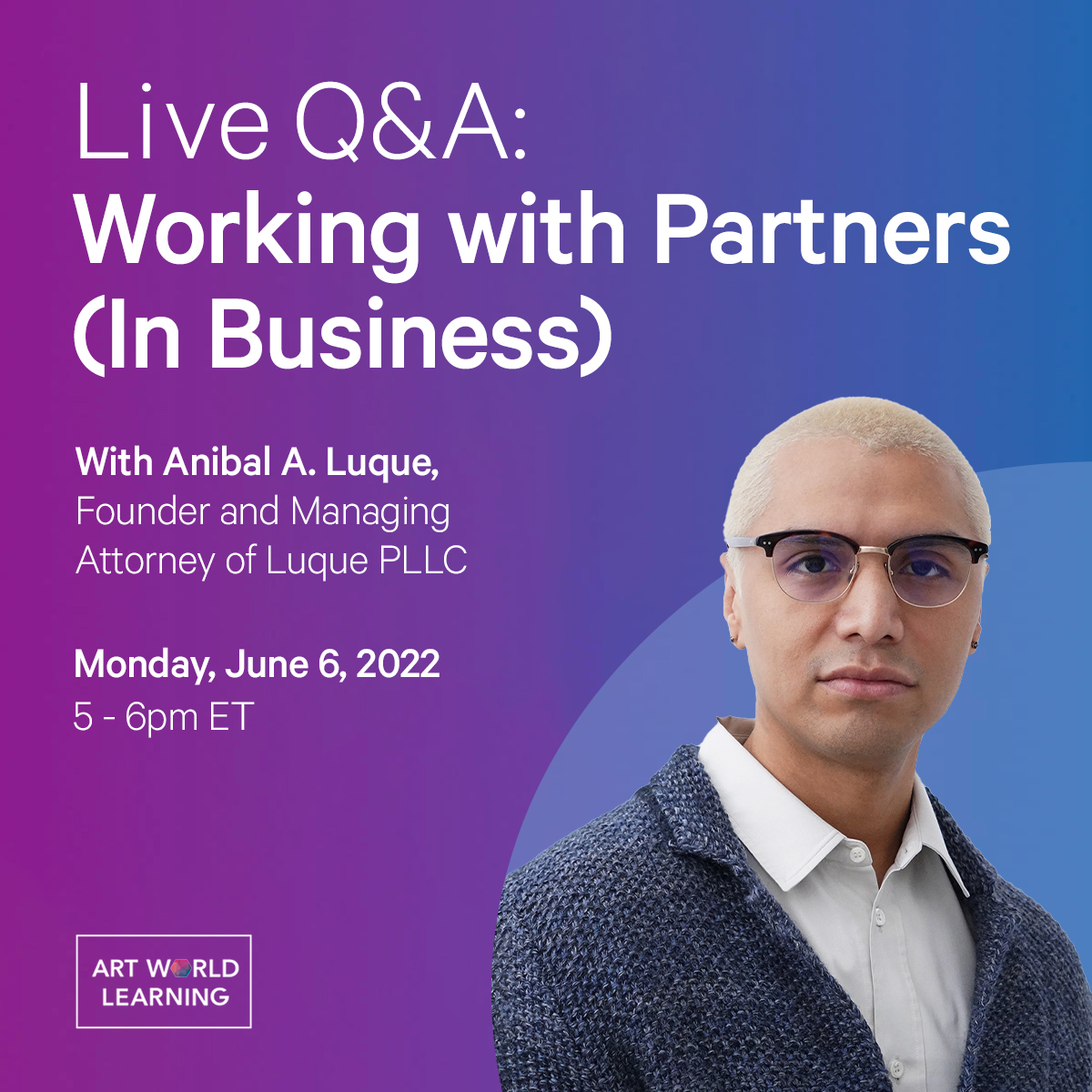 Working with Partners
(in Business)
Anibal A. Luque, Founder and Managing Attorney of Luque PLLC


Monday, June 6, 2022
5 - 6pm ET
COMPLETE

ABOUT ART WORLD LEARNING
Art World Learning provides subscriptions to high-quality, online video-based courses to help those in the creative sector thrive by making intelligent business and financial decisions. Art World Learning also produces Art World Conference (AWC): a series of actionable, inclusive workshops and events, both in-person and online, focused on business and financial health to build and sustain careers and communities in the arts. 
We believe financial health and sustainability for cultural producers is a social justice issue.
We are a fiscally sponsored project of the New York Foundation for the Arts.
To contact us, please email: [email protected]
(bulk educational pricing available)
The Art World Learning (AWL) service and any content viewed through our service are for your personal and non-commercial use only and may not be shared with individuals beyond your household. During your AWL enrollment, we grant you a limited, non-exclusive, non-transferable right to access the AWL service and view AWL content through the service. Except for the foregoing, no right, title or interest shall be transferred to you. You agree not to use the service for public performances.
Check your inbox to confirm your subscription